About the Society
Beccles Society of Artists was formed in 1969. The founder, the late Frank Delf, a retired marine engineer who lived in Worlingham, was a keen artist. He was also well known as a naturalist and had expert knowledge of windmills and round-towered churches. The late Frank Forward, DOA, a much respected professional artist, also played a part in our foundation. It was after a successful exhibition arranged for his pupils at the Corn Exchange in 1967 that the desire for a local art society was born, but lay in abeyance until Frank Delf took up the challenge and held the first meeting of the Society in October 1969.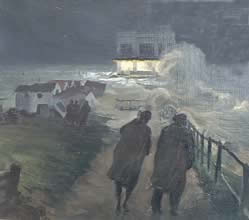 The Flood - a depiction of the 1953 flood by Frank Forward, DOA, reproduced courtesy of Southwold Museum where the painting hangs (www.southwoldmuseum.org)
The object of the Society is the furtherance and enjoyment of art. While there is no selection of paintings for the annual exhibition and all members make their own choice of their works to exhibit, the consistent success of the Society's exhibition can be measured by the significant number of works sold each year.
A booklet detailing the history of the Society - The History of the Beccles Society of Artists 1969-1990 - was written a few years ago by Reg Jones and Joy Holloway. This can be viewed by clicking on the link at the bottom of the page.
The Society's meetings are held on the first Wednesday of each month at the Waveney Centre, Newmarket, Beccles at 7.30 pm.

For a list of forthcoming speakers and other events, please see the Programme and Events page.
History of Beccles Society of Artists booklet
The booklet belows gives a fascinating insight into the history of the Society. We would welcome contact from the relatives of Roy Jones and Joy Holloway to enable us to discuss using the booklet further - if you know who/where they are, please contact us. Please do not attempt to reproduce this document.