2017 Monthly Meeting Programme
All meetings start at 7.30 pm at the Waveney Centre in Beccles.
Wednesday 5th April - Demo by Helen Howes
Wednesday 3rd May - Demo by Sula Rubens
Wednesday 7th June - Demo by Christopher Humphries
Guests can attend monthly meetings at a charge of £3 per guest per meeting.
2017 Calendar
We are very excited to announce the first ever Beccles Society of Artists calendar! The calendar is A3 size and spiral bound. Each month features a winning artwork from the society's Picture of the Month competition. You can buy a calendar at our monthly demo, sending an email to becclesartists@hotmail.com, or by contacting a member of the committee (see 'Contacts' page).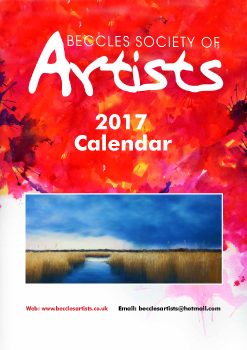 life drawing group at Beccles Station community rooms
An untutored life drawing class is being held each month at Beccles Station. Please visit the Life Drawing Beccles website for further details.
geldeston village hall
Geldeston Village Hall are planning all sorts of events - including an art class on Thursdays 2pm-4pm run by Jennie Robinson, our Chairperson. Contact Jennie directly or see the Geldeston Village Hall website for further details - the website address is on our links page.
other Recent Events
2016 Annual Exhibition
Please go to the Annual Summer Exhibition 2016 section of the website for pictures and a report.
Art at Redisham
A group of members recently spent a most enjoyable morning drawing and painting at Redisham Hall. There was an abundance of beautiful subject matter as well as tea and cake to sustain energy levels! Here are some photos of the morning: